100 Years of Motere Angus
Motere's original 10000 acres were purchased by my grandfather Harry H Pharazyn in 1906. Harry retired a few years later, and then in 1913 he embarked on a world tour and left his business affairs in the hands of his cousin and good friend Martin Greenwood. It was Martin Greenwood who founded the Angus Stud in 1910. Harry died in 1944 leaving his widow a life interest. Harry's only son Martin, my father, was not keen on farming so the station was run for nearly 80 years by some very capable managers.
Death duties took 4000 acres for soldier settlement blocks and 1200 acres was sold to finance the family's lifestyle. Motere mostly produced run sires for the big stations and bulls were sold in the paddock. Mona and I came home to Motere in the late 80's and in 1990 I took the reigns as manager. The stud was very run down selling only a few bulls yearly and I filled out the herd to what it was up until our first auction.
2010 saw Motere celebrate 100 years of continuous breeding. This was done In the way of Motere's first on farm sale. Twenty eight bulls were put up for sale with all 28 selling for average of $4800. This is to date my greatest achievement in 20 years of breeding. This proving, that hard work and determination will help make your dreams come true.
With our two sons James and Isaac home we are very excited with the new direction Motere Angus is taking and we look forward to the next 100 years of Motere Angus being run by the Pharazyn family.
Jim Pharazyn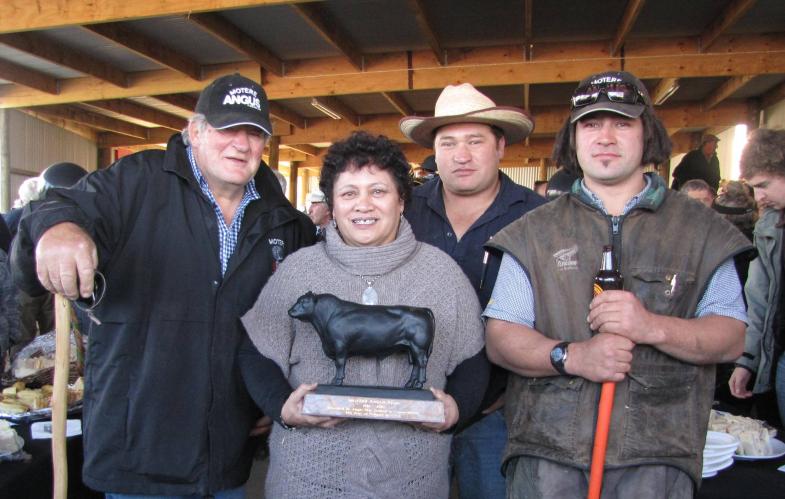 A proud moment having just recieved the trophy
for 100 years service to the Angus Association
2010
This was not only a year of celebration, but one of opportunity as well. The offer from the Williamson family to buy the top 135 Waitapu females and 50 yearling bulls was one of those offers that had we not taken it, we would have been left with that question "What If?"
Thankfully, we don't have to ask ourselves that question, with the whole team behind the idea and the timing right to grow the stud, we made it work. Motere's goal of becoming a leader in the New Zealand Angus Genetic market has taken its first steps and in doing so, a giant has been awoken and looks forward to the future with excitement.
2011
We were presented with another opportunity to purchase more females. Darrel Nicholas of Hillsborough Angus presented us 23 top females with different blood lines to those of Waitapu and Motere Angus, once again thought this was an opportunity too good to miss. This gives Motere Angus a huge genetic base to work with and find out which blood lines work. If the bloodlines work here under our strict disciplined program they will work anywhere.
The future is a busy one here at Motere, like all breeders in New Zealand we are endeavoring to move forward with the times and produce a product to meet the commercial man's needs for an ever changing consumer market.